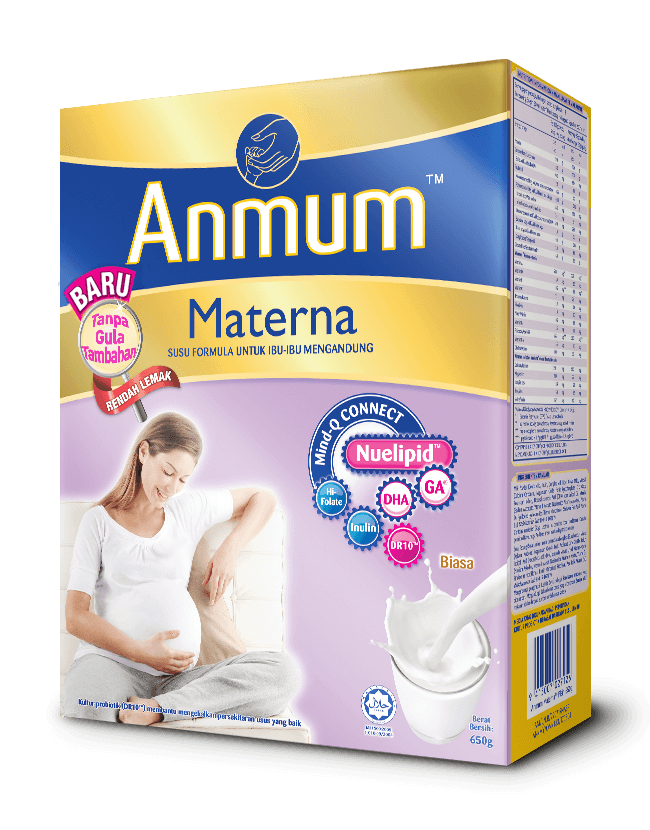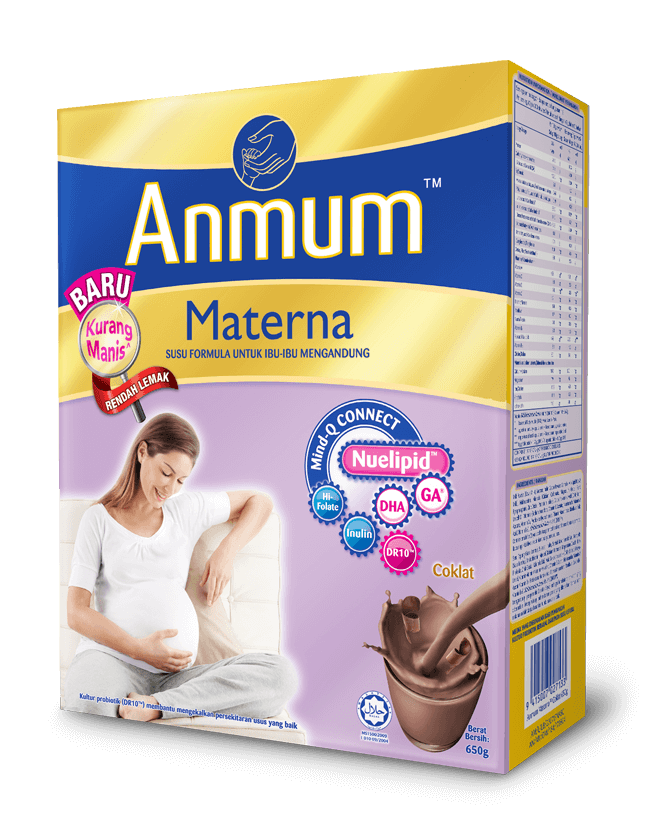 Anmum™ Materna
Whether you're an expecting mum or planning for pregnancy, Anmum™ Materna is specially formulated to support the nutritional needs of you and your developing baby. The only pre-natal milk drink that has no added sugars**, it is also low in fat and now comes in stick packs to make it convenient for you to prepare your drink on the go. 
*No. 1 Pre-natal Milk Brand based on Retail Audit for Health Food Drinks Category for 12 months ending February 2020 in Total Peninsular Malaysia (Copyright © 2020, The Nielsen Company (M) Sdn Bhd)  **Sucrose, Glucose Syrup Solid, Corn Syrup Solid, Brown Sugar, Dextrose, Lactose, Fructose, Honey and White Sugar are defined as 'sugars' and 'added sugars' under CODEX Standard 212-1999 and CAC/GL23-1997. CODEX develops harmonised international food standards guidelines and code of practices. Under Malaysian Food Regulations 1985, Sucrose, Brown Sugar, Dextrose, Glucose, Fructose, Honey are defined as sweetening substances. 
***Applicable for Anmum™ Materna Plain variant only

When you're undergoing your pregnancy journey, you learn that every day your little one is growing in extraordinary ways; in ways you could never imagined.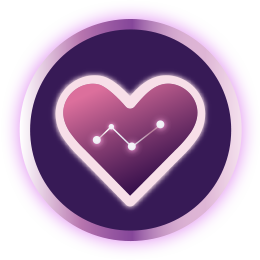 Your little one's heart beats twice as fast as yours. ¹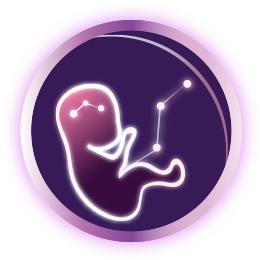 Your little one will grow by 10,000 in the first month. ²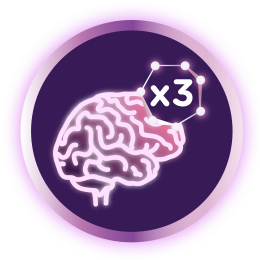 In the last 13 weeks of pregnancy, your little one's brain triples in weight. ³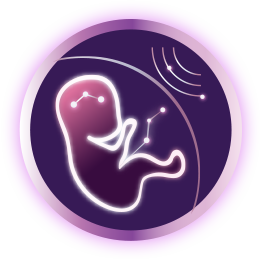 By week 26, your little one may
startle in response to loud noises. ⁴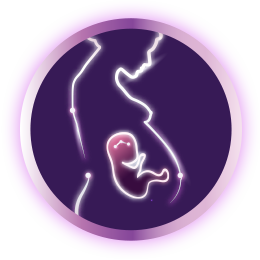 Your little one may
start responding to touches by week 8. ⁵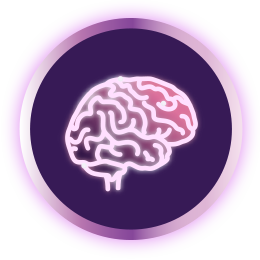 At just 28 days, your little one's brain has formed 3 primary parts⁶ and is growing 250,000 brain cells per minute. ⁷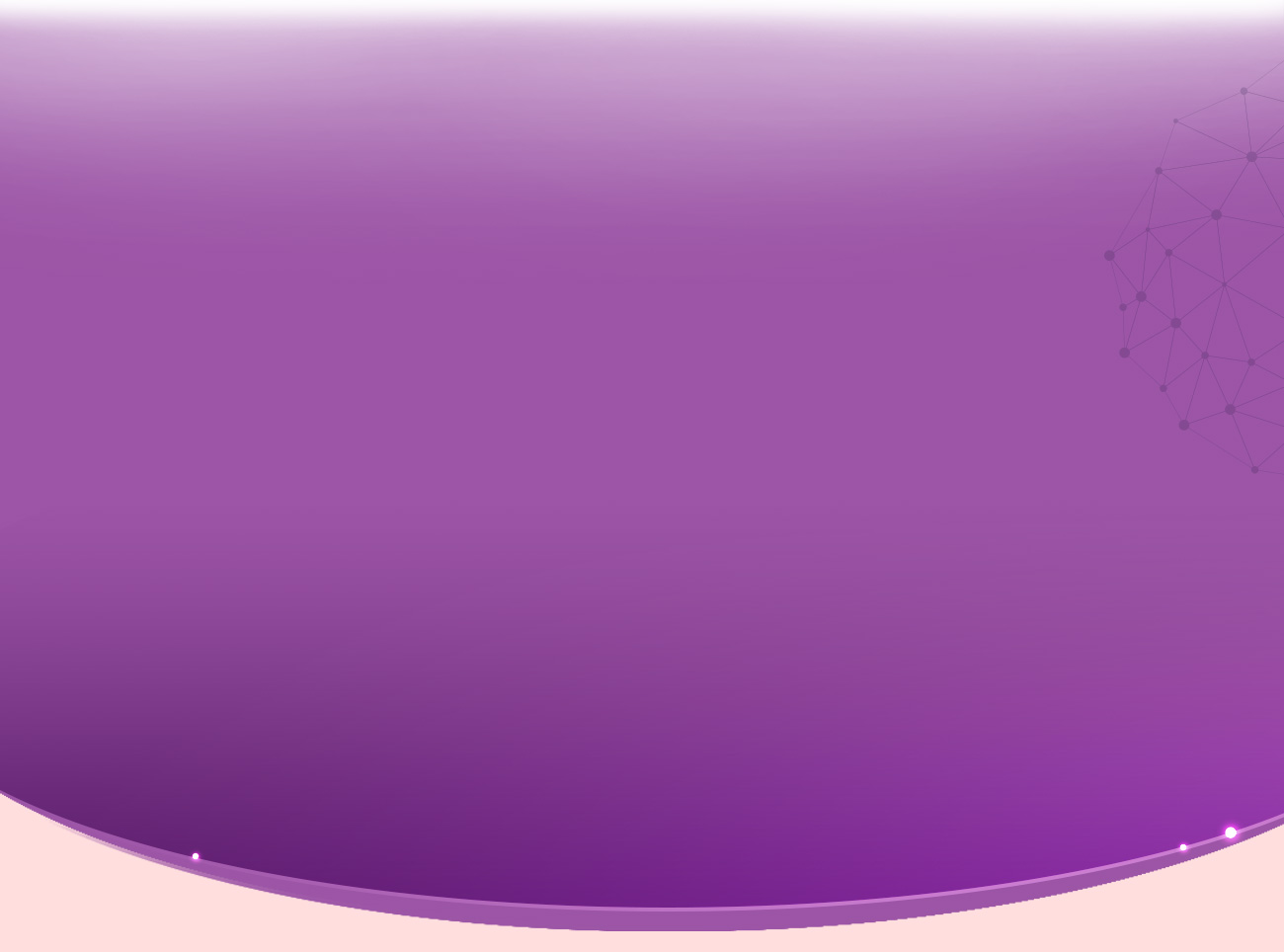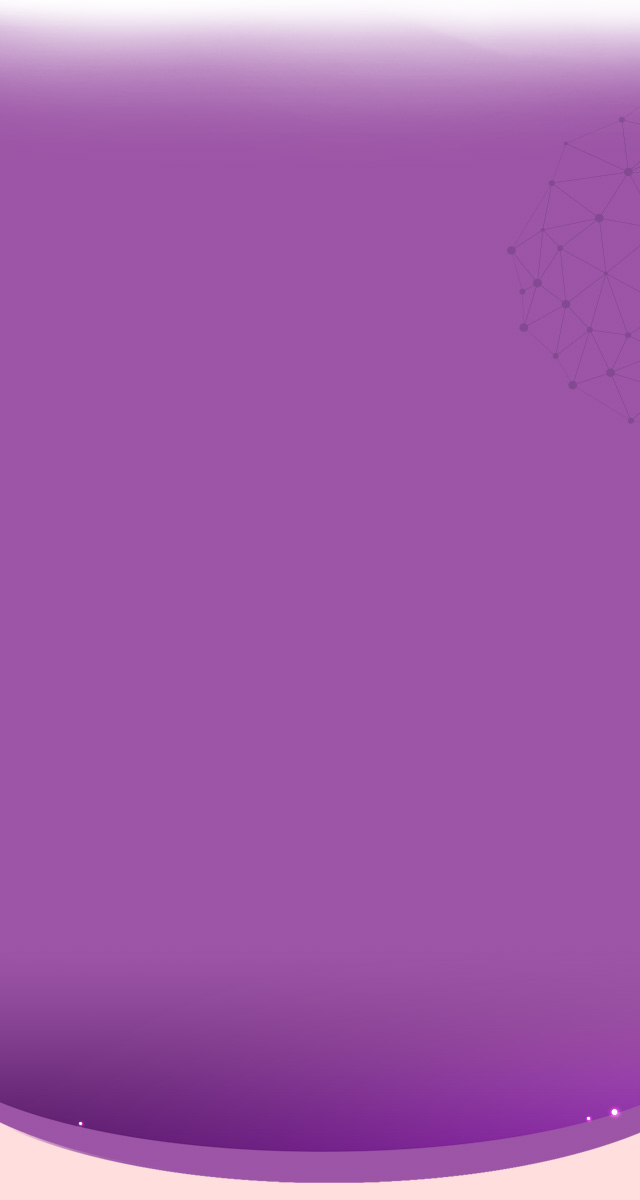 When you're pregnant, your body also goes through extraordinary changes. You sweat more, your blood flow increases, your breath quickens and more changes sweep through your body, all to support the extraordinary growth of your developing baby.
Do you know that getting sufficient nutrients from your food and drink is important during oregnancy? Research done among pregnant women in Malaysia showed a low percentage of Malaysian mums-to-be getting sufficient nutrients needed to support their pregnancy.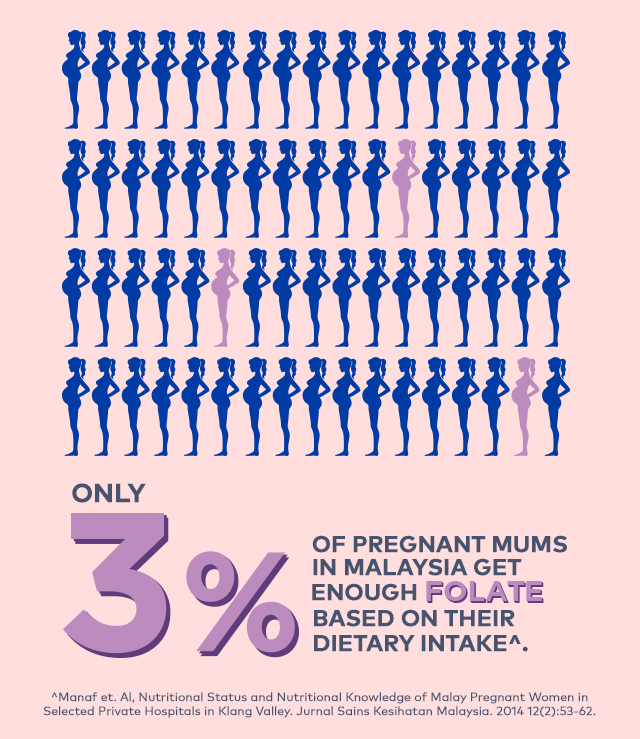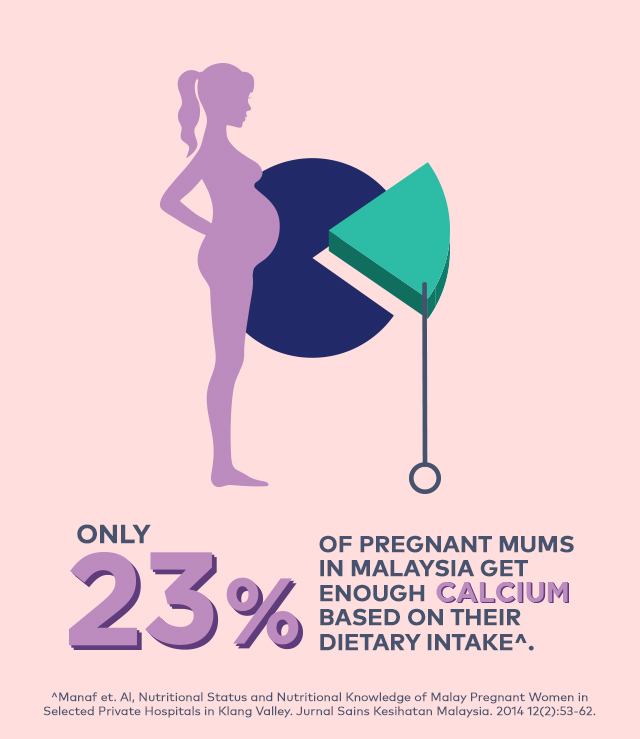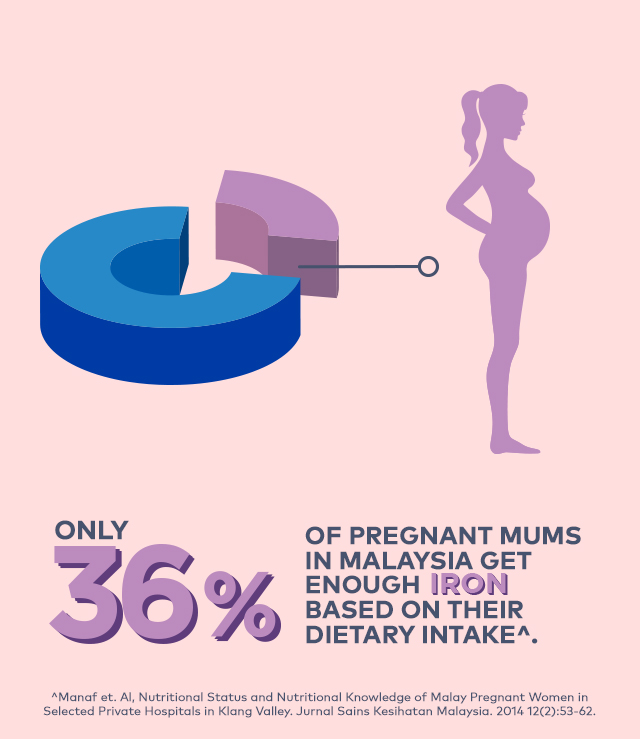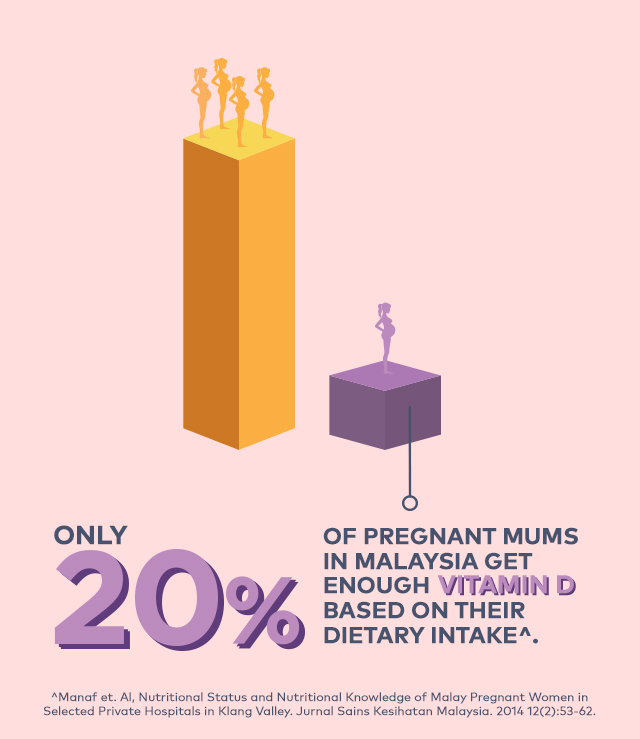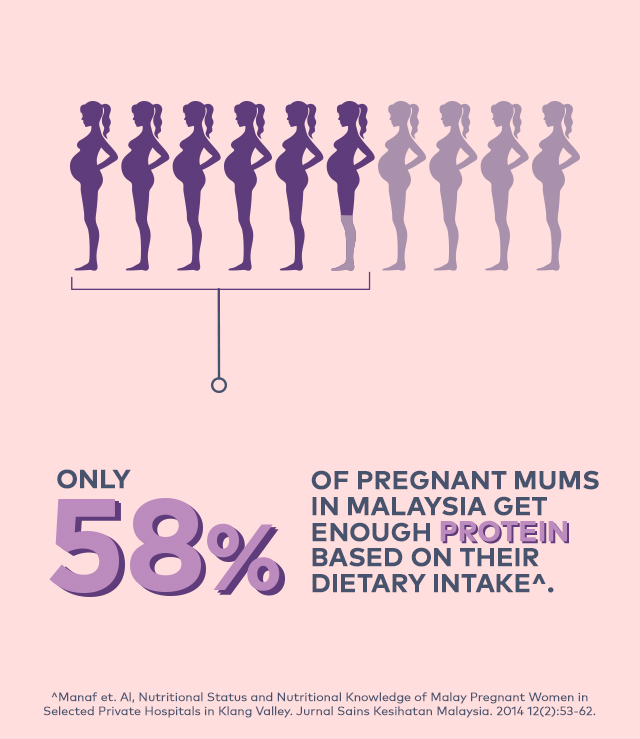 Anmum Materna is packed with nutrients you need for your pregnancy, without the added sugars**.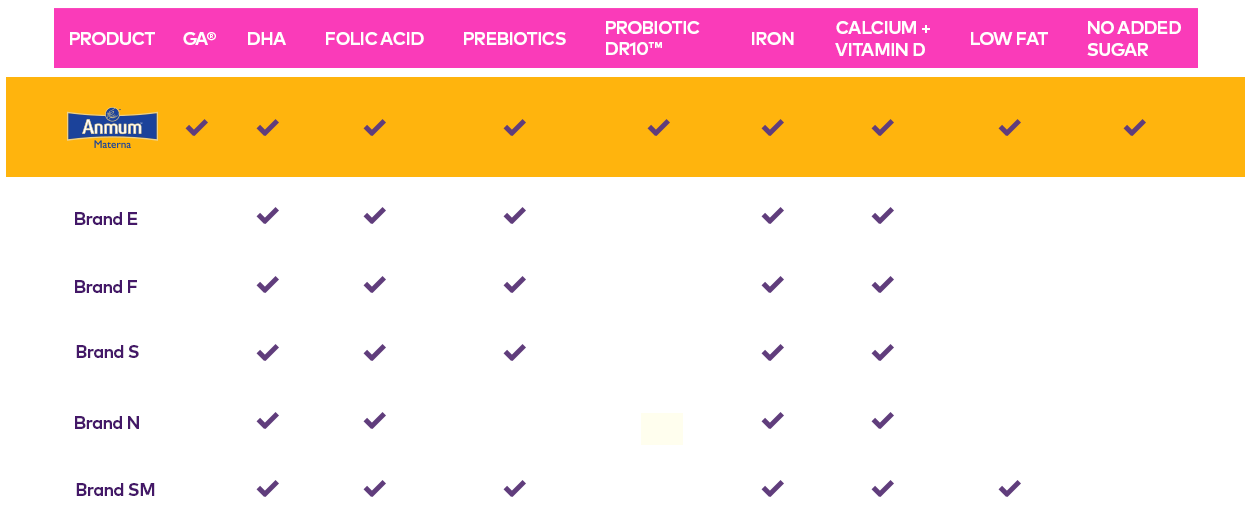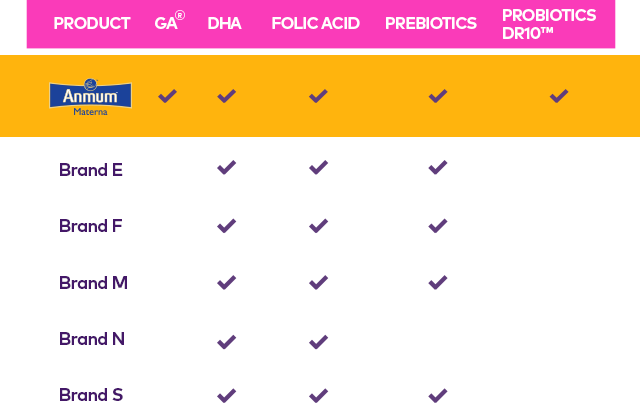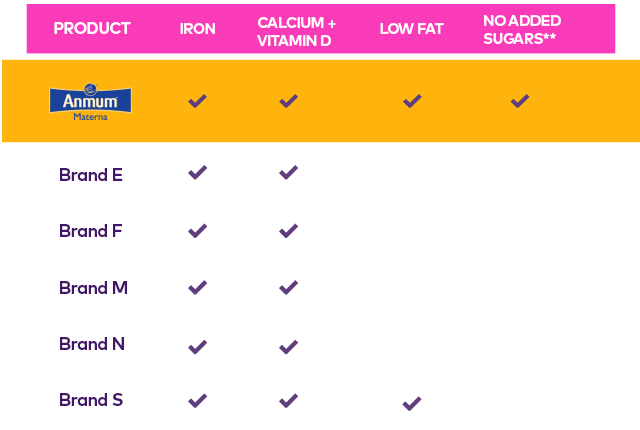 Based on maternal milk brands' NIP in the market as of 2017
*GA® refers to Gangliosides ¹ Malaysia RNI, Folate and Calcium

You have higher nutritional needs when you're pregnant, hence drinking regular milk alone may not be enough to support your increased nutritional needs.
For example, when you are pregnant you need 1000mg of Calcium daily*,2 glasses of regular milk daily only fulfils 55.2% of your requirement whereas drinking 2 glasses of Anmum™ Materna daily provides 100%* of your calcium needs. Calcium is important for strong bone and teeth. Thus you need sufficient calcium to support your bone health and your developing baby's needs.
* 2 glasses of whole milk, USDA Food Composition Database vs. 2 glasses of Anmum™ Materna. RNI Malaysia 2017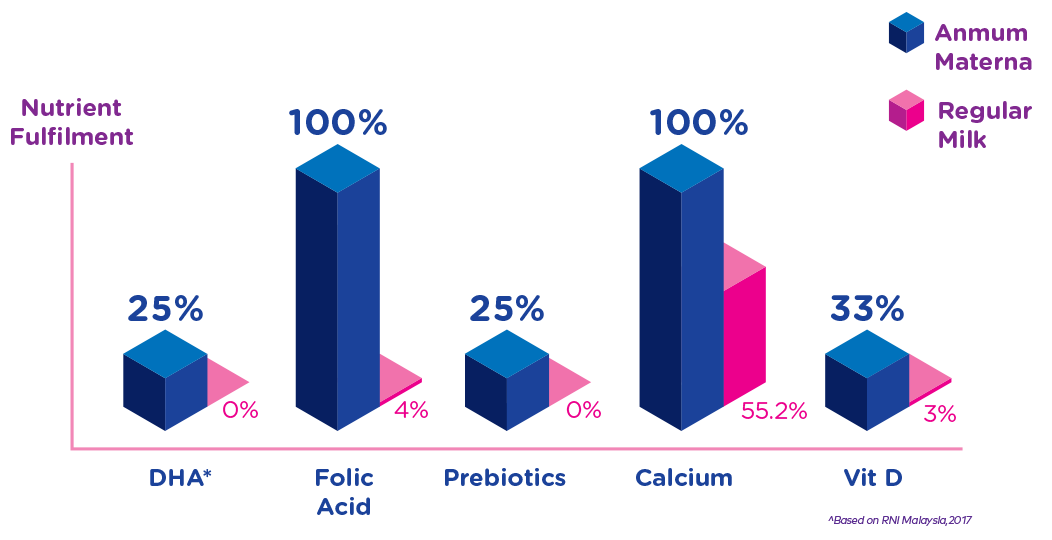 This chart serves as a reference for pregnant mums to understand the nutrient content between Anmum Materna and regular milk as they have higher needs for certain nutrients during pregnancy.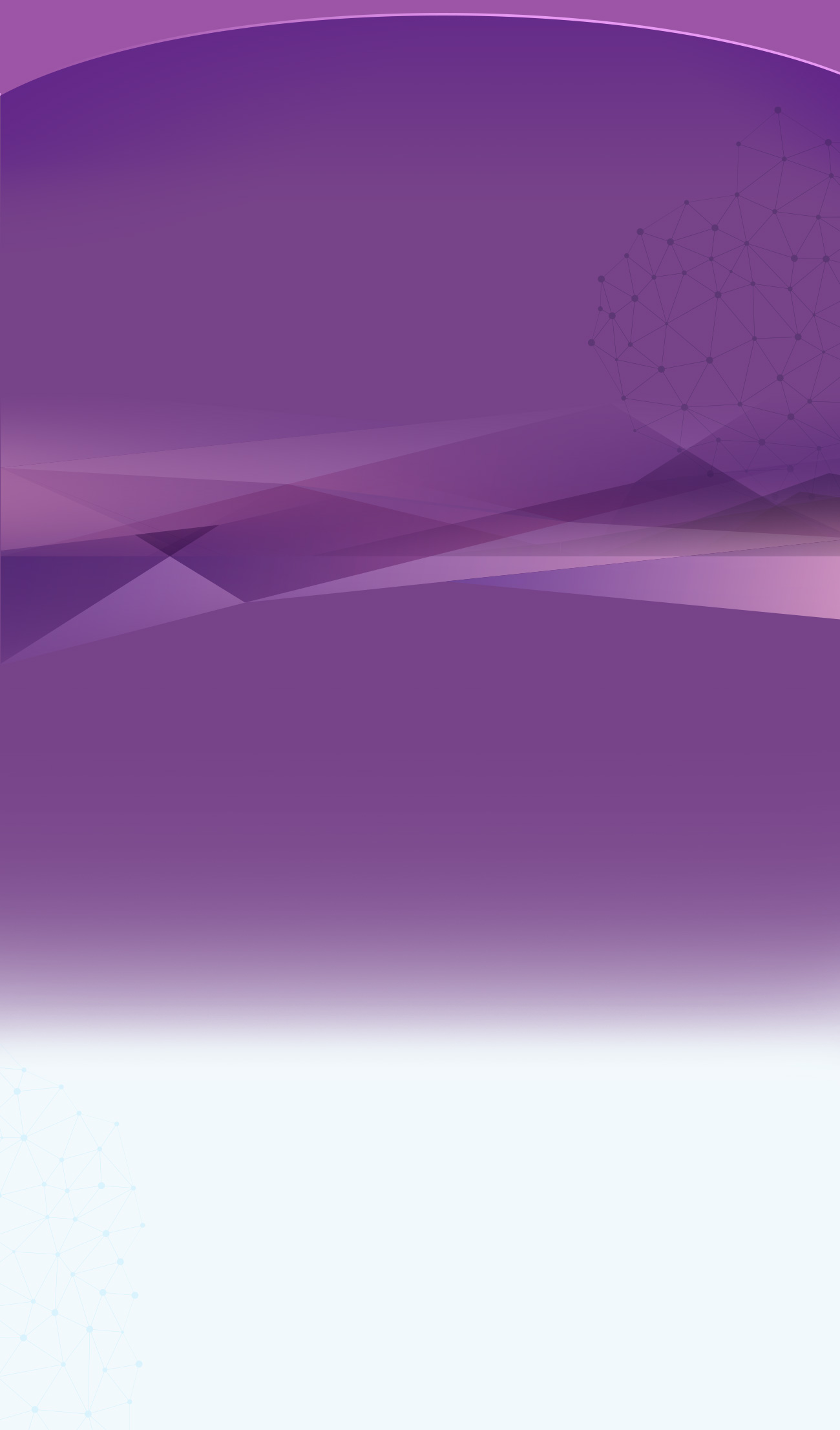 Nutrition in every glass you drink.
With just 2 glasses a day, Anmum™ Materna gives you important nutrients you need to support your pregnancy and your developing baby.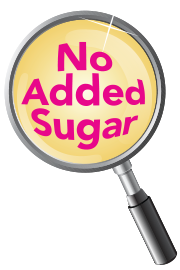 The only maternal milk brand with no added sugars**.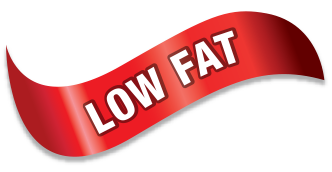 Low fat formulation together with a balanced diet to help support a healthy pregnancy weight gain.
**Only available for Anmum Materna Plain only.

Probiotic DR10™ & Inulin
Inulin is a prebiotic and Probiotic Bifidobacterium Lactis (DR10™) a type of good bacteria, helps in maintaining a good intestinal environment.

Nuelipid™
Complex milk lipid which is rich in GA®, Phospholipid and Proteins.

GA® & DHA
GA® and DHA are found in the brain.

Folate
Folate is important for rapid cell growth and the development of your little one's brain and spinal cord during your pregnancy.

Calcium
Calcium helps in strong bones and teeth.

Iron
Iron is a factor in red blood cells formation supporting 50% blood volume increase which occurs during pregnancy.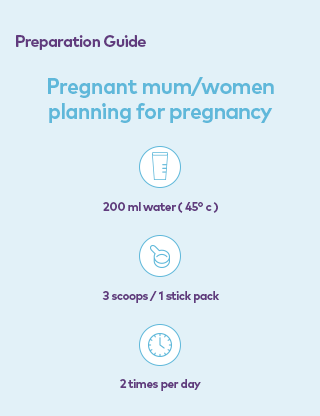 Nutritional Information - Anmum™ Materna Plain
NUTRIENTS
Per 100g
powder
Per serving
(36g powder)
Energy
349 kcal
126 kcal
 
1467 kJ
528 kJ
Protein
29.4 g
10.6 g
Carbohydrate
48.2 g
17.4 g
 - Sialic acid (SA)
190.0 mg
68.4 mg
Fat
2.8 g
1.0 g
 - Monounsaturated fatty acid
0.56 g
0.2 g
 - Polyunsaturated fatty acid
0.18 g
0.06 g
     Linoleic acid*
36.0 mg
13.0 mg
     α-Linolenic acid*
17.0 mg
6.1 mg
     Docosahexaenoic acid (DHA)
69.4 mg
25.0 mg
 - Saturated fatty acid
1.9 g
0.7 g
 - Trans fatty acid
0.1 g
0.04 g
 - Gangliosides
11.0 mg
4.0 mg
Dietary fibre (Inulin)
6.9 g
2.5 g
Vitamins:
 
 
Vitamin A
630 μg**
227 μg**
Vitamin D
6.9 μg
2.5 μg
NUTRIENTS
Per 100g
powder
Per serving
(36g powder)
Vitamin E
10.6 mg***
3.8 mg***
Vitamin C
72 mg
26 mg
Thiamin
1.7 mg
0.6 mg
Riboflavin
1.9 mg
0.7 mg
Niacin
10.6 mg
3.8 mg
Vitamin B6
2.6 mg
1.0 mg
Folic acid
556 μg****
200 μg****
Vitamin B12
3.6 μg
1.3 μg
Choline
100 mg
36 mg
Minerals and other nutrients:
 
 
Calcium
1390 mg
500 mg
Magnesium
209 mg
75 mg
Iron
18.9 mg
6.8 mg
Zinc
15.3 mg
5.5 mg
Iodine
167 μg
60 μg
* Essential Fatty Acids (EFA)
** μg retinol activity equivalents
*** mg α – tocopherol equivalents
**** 1 μg folic acid = 1.7 μg DFE
Ingredients

Milk Powder (Cow's Milk), Inulin, Complex Milk Lipid (Cow's Milk), Minerals (Calcium Carbonate, Magnesium Oxide, Ferric Pyrophosphate, Zinc Oxide, Potassium Iodide), Docosahexaenoic Acid (DHA) from Unicell Oil, Vitamins (Sodium Ascorbate, Vitamin E Acetate, Niacinamide, Vitamin A Acetate, Vitamin D3, Pyridoxine Hydrochloride, Thiamin Mononitrate, Riboflavin, Folic Acid, Vitamin B12), Bifidobacterium Lactis HN019 (DR10™). Contains emulsifier (Soya Lecithin) as permitted food conditioner. Contains permitted flavourings. Additives are of plant and synthetic sources.
Pregnancy Articles
Enjoy parenting tips and advice to support your journey through parenthood!