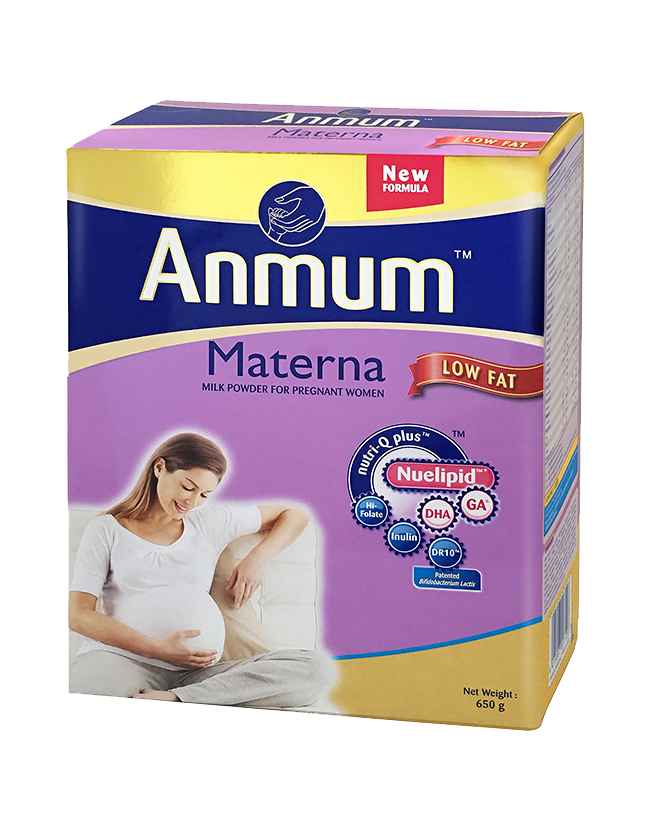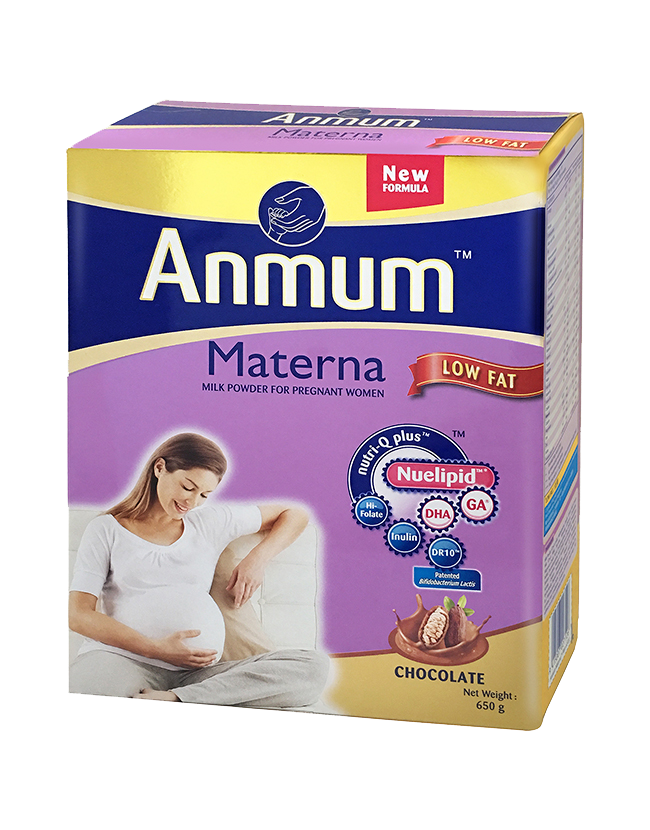 Anmum™ Materna
Whether you're an expecting mum or planning to become one, the NEW Anmum™ Materna is specially formulated to support your nutritional needs.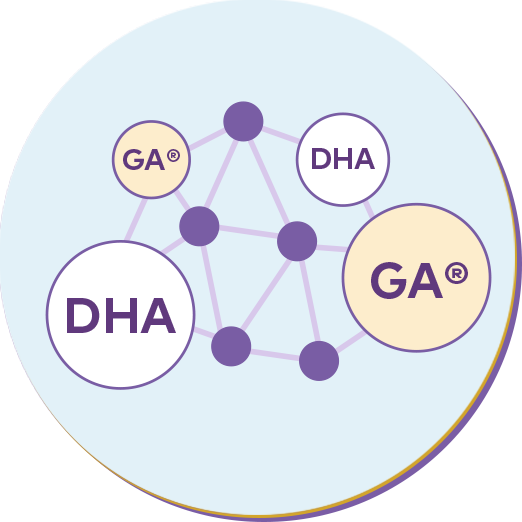 Now with Nuelipid™ for higher level of GA® *. Contains DHA too.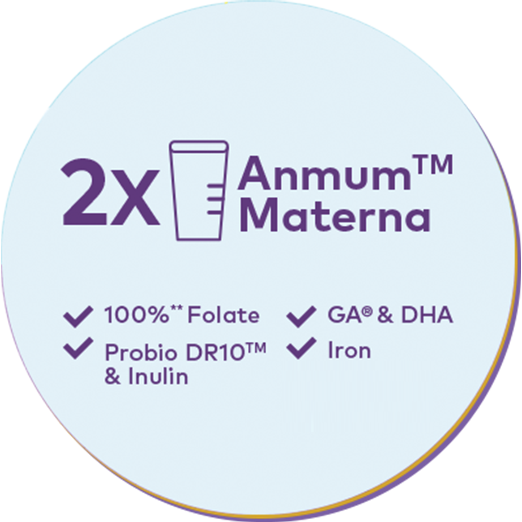 Enjoy 2 glasses of Anmum™ Materna daily for all the important nutrients you need to support your developing baby!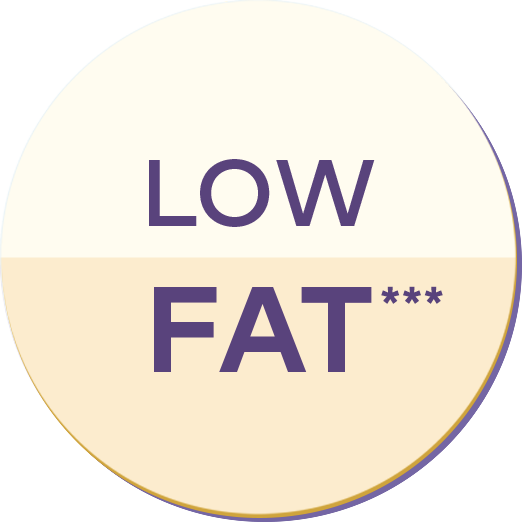 With low fat formulation, coupled with a balanced diet, get the important nutrients while maintaining a healthy pregnancy weight!
Nutrition in Every Glass
Here are the key nutrients crucial for pregnant mums.

New! Nuelipid™
For higher level of GA® *.

GA® & DHA
Contains GA® and DHA.

Folate
Taken before and during early pregnancy, Folate helps in mental and overall development of the foetus. Folate also plays a role in the formation of red blood cells.

Calcium
Supports development of strong bones and teeth.

Iron
An important component of red blood cells which carry oxygen to all parts of the body's production of energy.

Inulin & Probio DR10™
Inulin helps to support the growth of good intestinal flora in the gut. DR10™, a patented Probiotic strain, helps to maintain a healthy digestive system.
*Compared to previous formulation
**USDRI
***89% less fat than full cream milk powder (Food Composition Guide Spore)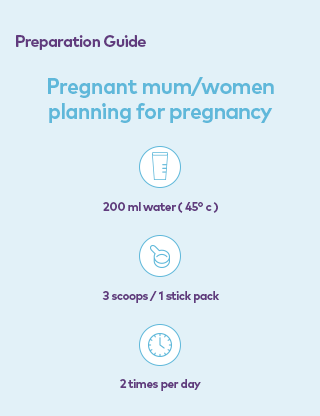 Nutritional Information - Anmum™ Materna Plain
NUTRIENTS
Per 100g
powder
Per serving
(36g powder)
Energy
354 kcal
127 kcal
 
1487 kJ
533 kJ
Protein
24.7 g
8.9 g
Carbohydrate
54.2 g
19.5 g
Sialic acid (SA)
163.0 mg
58.7 mg
Fat
2.7 g
1.0 g
   Monounsaturated
0.6 g
0.2 g
   Polyunsaturated
0.20 g
0.07 g
   Linoleic acid*
36.0 mg
13.0 mg
   α-Linolenic acid*
17.0 mg
6.1 mg
   Docosahexaenoic acid (DHA)
69.4 mg
25.0 mg
   Saturated
1.9 g
0.7 g
   Trans fatty acid
0.10 g
0.04 g
   Gangliosides
11.0 mg
4.0 mg
Dietary fibre 
6.9 g
2.5 g
Vitamins:
 
 
Vitamin A
535 μg**
193 μg**
Vitamin D
6.9 μg
2.5 μg
NUTRIENTS
Per 100g
powder
Per serving
(36g powder)
Vitamin E
10.6 mg***
3.8 mg***
Vitamin C
72 mg
26 mg
Thiamin
1.7 mg
0.6 mg
Riboflavin
1.9 mg
0.7 mg
Niacin
10.6 mg
3.8 mg
Folic acid
556 μg****
200 μg****
Vitamin B6
2.6 mg
0.9 mg
Vitamin B12
3.6 μg
1.3 μg
Choline 
78.0 mg
28.0 mg
Mineral:
 
 
Calcium
1333 mg
480 mg
Magnesium
209 mg
75 mg
Iron
18.9 mg
6.8 mg
Zinc
15.3 mg
5.5 mg
Iodine
167 μg
60 μg
Probiotic (DR10)
1.40E+07 cfu
5.04E+06 cfu
* Essential Fatty Acids (EFA)
** μg retinol activity equivalents
*** mg α – tocopherol equivalents
**** 1 μg folic acid = 1.7 μg Dietary Folate Equivalents (μg DFE)
Ingredients

Milk Powder (Cow's Milk), Maltodextrin, Inulin, Dried Half Cream Milk (Cow's Milk), Sucrose, Minerals (Calcium Carbonate, Magnesium Oxide, Ferric Pyrophosphate, Zinc Oxide, Potassium Iodide), Docosahexaenoic Acid (DHA) from Unicell Oil, Vitamins (Sodium Ascorbate, Vitamin E Acetate, Niacinamide, Vitamin A Acetate, Calcium Pantothenate, Vitamin D, Pyridoxine Hydrochloride, Thiamin Mononitrate, Riboflavin, Folic Acid, Vitamin B12), Bifidobacterium lactis. Contains emulsifier (soy lecithin) as permitted food conditioner. Contains permitted flavourings. All additives are of plant or synthetic sources.
Parenting Articles
Enjoy parenting tips and advice to support your journey through parenthood!