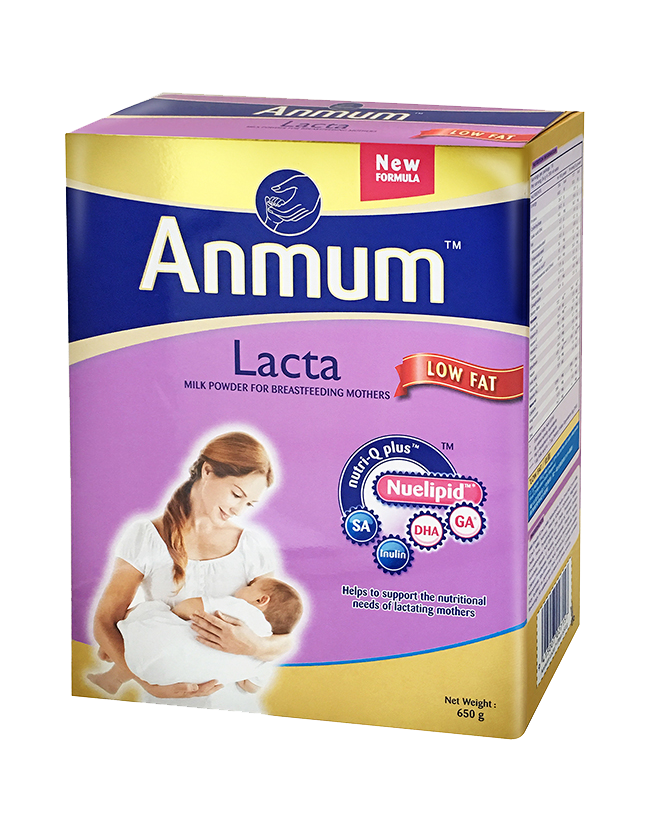 Anmum™ Lacta
Anmum™ Lacta is formulated to replenish maternal stores during the post-natal period.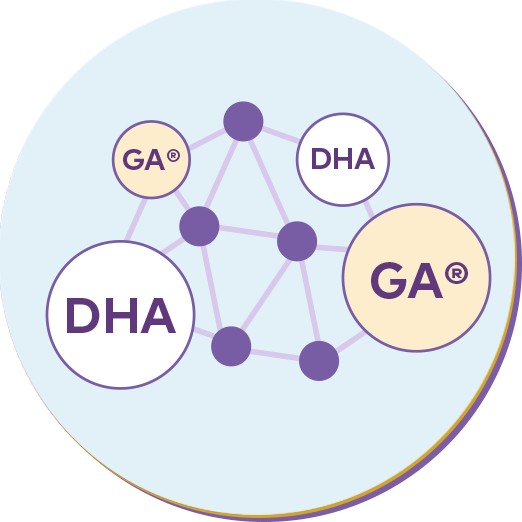 Now with Nuelipid™ for higher level of GA® *. Contains DHA too.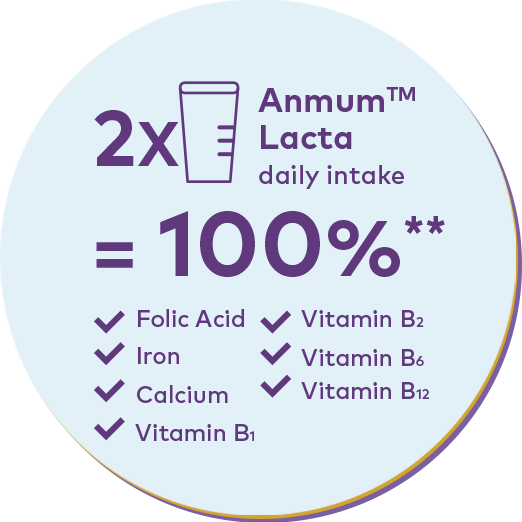 Enjoy 2 glasses of Anmum™ Lacta daily to meet the nutritional requirements of breastfeeding mothers.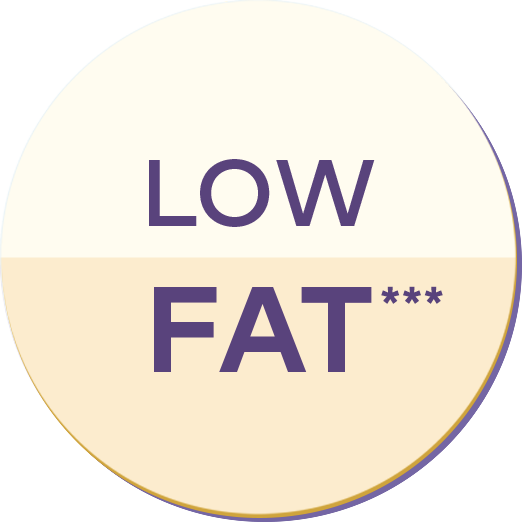 With a low fat formulation.
Nutrition in Every Glass
Here are the key nutrients crucial for post-natal mums.

New! Nuelipid™
For higher levels of GA® *.

GA®, DHA, SA
Contains GA® and DHA.

Calcium
Supports the development of strong bones and teeth.
Vitamin B1, B2, B3, B6, B12
Vitamin B1, B2 & B3 help to release energy from proteins, fats and carbohydrates. Vitamin B6 is important for the production of energy. Vitamin B12 is needed for the formation of red blood cells.

Iron
An important component of red blood cells which carry oxygen to all parts of the body's production of energy.

Inulin
Helps to support the growth of good intestinal flora in the gut.
* Compared to previous formulations
**USDRI
***89% less fat than full cream milk powder (Food Composition Guide Spore)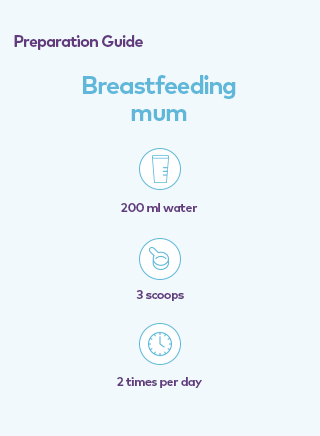 Nutritional Information - Anmum™ Lacta Plain
NUTRIENTS
Per 100g
powder
Per serving
(36g powder)
Energy
354 kcal
127 kcal
 
1487 kJ
533 kJ
Protein
24.7 g
8.9 g
Carbohydrate
54.2 g
19.5 g
   Sialic acid (SA)
163.0 mg
58.7 mg
Fat
2.7 g
1.0 g
   Monounsaturated 
0.6 g
0.2 g
   Polyunsaturated 
0.20 g
0.07 g
   Linoleic acid*
36.0 mg
13.0 mg
   α-Linolenic acid*
17.0 mg
6.1 mg
   Docosahexaenoic acid (DHA)
69.4 mg
25.0 mg
   Saturated
1.9 g
0.7 g
   Trans fatty acid
0.10 g
0.04 g
   Gangliosides
11.0 mg
4.0 mg
Dietary fibre (Inulin)
6.9 g
2.5 g
Vitamins:
 
 
Vitamin A
722 μg**
260 μg**
Vitamin D
6.9 μg
2.5 μg
NUTRIENTS
Per 100g
powder
Per serving
(36g powder)
Vitamin E
10.6 mg***
3.8 mg***
Vitamin C
78 mg
28 mg
Thiamin
1.9 mg
0.7 mg
Riboflavin
2.2 mg
0.8 mg
Niacin
10.6 mg
3.8 mg
Folic acid
417 μg****
150 μg****
Vitamin B6
2.8 mg
1.0 mg
Vitamin B12
3.9 μg
1.4 μg
Mineral:
 
 
Calcium
1390 mg
500 mg
Magnesium
208 mg
75 mg
Iron
12.5 mg
4.5 mg
Zinc
16.7 mg
6.0 mg
* Essential Fatty Acids (EFA)
** μg retinol activity equivalents
*** mg α – tocopherol equivalents
**** 1 μg folic acid = 1.7 μg Dietary Folate Equivalents (μg DFE)
Ingredients

 Milk Powder (Cow's Milk), Maltodextrin, Inulin, Dried Half Cream Milk (Cow's Milk), Sucrose, Minerals (Calcium Carbonate, Magnesium Oxide, Ferric Pyrophosphate, Zinc Oxide, Potassium Iodide), Docosahexaenoic Acid (DHA) from Unicell Oil, Vitamins (Sodium Ascorbate, Vitamin E Acetate, Niacinamide, Vitamin A Acetate, Calcium Pantothenate, Vitamin D, Pyridoxine Hydrochloride, Thiamin Mononitrate, Riboflavin, Folic Acid, Vitamin B12). Contains emulsifier (soy lecithin) as permitted food conditioner. Contains permitted flavourings. All additives are of plant or synthetic sources.
Parenting Articles
Enjoy parenting tips and advice to support your journey through parenthood!