Healthy Eating After Child Birth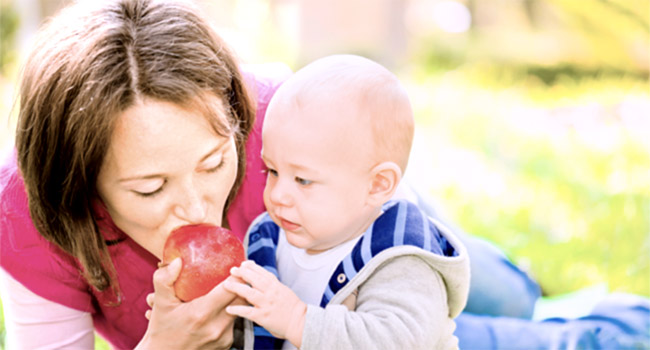 Strategies for healthy eating after childbirth.
You've just welcomed your new baby into the family. It's an exciting time, but it can also be a very busy and tiring time. Eating healthy is just as important now as it was during pregnancy – especially if you're breastfeeding.
It may be helpful to get some strategies in place, to assist you in eating well.  Things like cooking in bulk, storing meals in the freezer, accepting offers of home-cooked dinners from friends and family, can all make a huge difference in those first few weeks.  
What's important
What's often on a new mum's mind is how quickly they can lose the weight gained during pregnancy.  It's important not to rush into this, as moving to an eating plan for weight loss immediately after giving birth can delay your recovery and cause unnecessary tiredness at a time when you need all the energy you can muster to look after yourself and your newborn.  You may be pleasantly surprised if you give your body a chance and choose a diet full of healthy, nutritious foods, how much weight you may lose naturally. 
It's about quality, not quantity
Much like during pregnancy, healthy eating after childbirth is more about what you eat – not always how much you eat. Check out these nutritious options from the four food groups:
Well-washed fruits and vegetables – whether they're fresh, frozen or canned – are full of the vitamins, minerals and fibre you need each day
Milk and milk products such as yoghurt, or even dairy alternatives like soy and rice milk, are great sources of calcium, protein, vitamin B12
Breads and cereals including rice and pasta (especially the wholegrain varieties) provide you with high levels of energy, carbohydrates, B-vitamins and fibre
Foods like lean meats, chicken, seafood, eggs, cooked dried beans, peas and lentils, nuts and seeds are all important sources of protein, iron, zinc and other essential nutrients.
Make the most of snack time
It's completely normal for your appetite to increase after childbirth – particularly if you're breast feeding.  But a great way to counter this is through choosing good snack options. You could start with things like:
Vegetable sticks served with hummus, peanut butter or cottage cheese
Wholemeal sandwiches, wraps, rolls, corn thins, crumpets and English muffins with a range of protein-rich fillings
Breakfast cereals and milk
Home made popcorn
Fruit with yoghurt
Nuts, seeds and dried fruit
Fruit smoothies
Drink up
Keeping hydrated is great for your health. Use your thirst as a guide and drink plenty of water. Fluids may sometimes include unflavoured milk as an alternative to water, which also provides calcium, protein and other nutrients to your day.
What you feed yourself also feeds your baby – and it's important to know that caffeine from coffee and alcohol can end up in breast milk. During this time, you'll need as much sleep as possible, so it's a good idea to limit caffeine as it can have similar effects on your baby. Alcohol lowers your milk supply and may make your baby irritable, unsettled or sleepy, and therefore unable to feed well. So if you do decide to have a few drinks, make sure you leave a couple of hours before breastfeeding. If the weather's hot, try and increase your fluid intake, making sure you've always got a glass of water on hand every time you breastfeed.