What to pack in your hospital bag - a checklist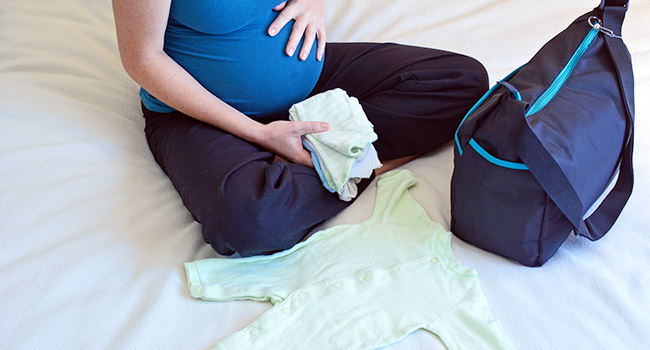 With your due date coming up, things are starting to get exciting. It's an amazing time, but it's also the best time to start preparing yourself. This means getting together all the essentials you'll need during labour, birth and after your baby's born. Aim to pack around 33-36 weeks into pregnancy.
Wondering what to take? Have a look over the list we've compiled below. You might not need everything, so it's simply about choosing what's right for you.
  For Mum – for the birth and during your hospital stay

  For your baby

Your birth plan
A camera and fully charged mobile phone and charger 
A loose t-shirt or nightie you can wear during birth
Two sets of sleepwear suitable for breast feeding during the hospital stay (e.g. pyjamas that button up)
Dressing gown
Cotton underwear in navy or       black x 10
Two or three nursing bras
Socks and/or slippers
Breast pads – at least two boxes
Maternity pads – at least two packets
Clothing to wear home – make sure they're loose and comfortable
Toiletries including toothbrush, toothpaste, liquid soap, shampoo, conditioner, hairbrush, deodorant,  lip balm, nipple cream, eye drops and any medications you're taking
Reading glasses or contact lenses
Towels and face cloths
Tissues
Your favourite snacks and drinks
List of people to call after the birth

Some nice things to have

Massage or aromatherapy oils
Music (on phone or iPod with speakers)
Extra pillows
Breast pump for expressing if you would prefer to use your own (hospitals do provide)
Plastic bags for dirty clothes
Magazines or a good book
Journal and pen for recording baby's feed and sleep times
Wheat pack or hot water bottle
Ear plugs and eye mask

Car capsule for the trip home
Sleepsuits x 6
Bodysuits x 6
Socks and booties x 6
Hat/beanie x 2
Scratch mittens
Cardigans x 4 (if cool weather)
Outfit for the trip home
Blankets
Swaddling blankets
Muslin cloths x 6
Cotton wool
Wipes and Nappies – most hospitals will provide these, but best to check just in case