How much should my toddler eat?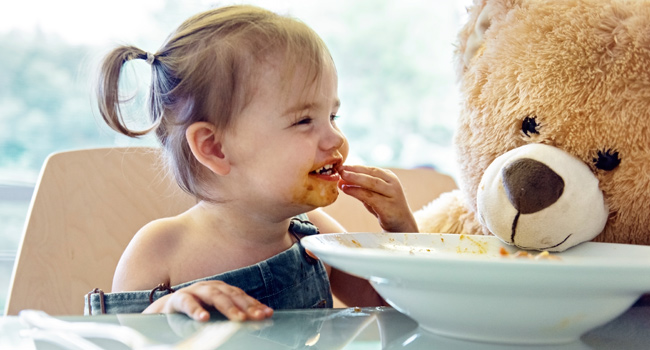 Your toddler's appetite can certainly be confusing. They might devour all their first foods, and then suddenly their interest in food dramatically drops. For parents, this can be worrying. But it's important to know, it's completely normal for your toddler's appetite to change, day to day or week to week. 
The best way for you to figure out how much your toddler should eat is to offer healthy and varied food options and meals, and then let them decide how much they need. Remember, they're the best judge. This is especially important with their ever-changing appetites, as sometimes it's hard to keep up. But rest assured, they'll let you know when they're hungry! 
Your toddler has a small stomach capacity, so it's best to offer them 3 small meals a day, with 3 small healthy snacks in between.  Here are some example menu options we've put together for a 1 year old:
Breakfast options                                                                                          
Breakfast cereal such as wheat biscuits or porridge with milk, and chopped fruit on top
Wholemeal toast or rewena bread with spread and jam or marmite/vegemite
Lunch options
Baked beans or scrambled eggs on a piece of toast, with chopped fruit
Home made vegetable and corn fritters with a yoghurt
Sandwiches made on wholemeal bread with fillings such as grated cheese, cream cheese and avocado, mashed boiled egg or hummus, with a glass of milk
Dinner options
Once they reach the age of 1, your toddler should be eating the same meal as the rest of the family (with some small modifications). Therefore, try to keep the addition of salt and sugar while cooking a meal to a minimum.
Macaroni cheese
Spaghetti bolognaise
Finely chopped lean meat with soft cooked vegetables (carrots, courgettes, green beans) and pieces of baked potato, kumara or taro
Beef casserole on rice
Fresh or frozen fruit, yoghurt or custard can be eaten as a dessert if needed
Drinks options
Breast milk, water, whole fresh milk and toddler milks are the only recommended fluids for a toddler.  You may wish to continue breast feeding.
If you are no longer breastfeeding, offer up to 2 cups (250mL each) of whole milk (for toddlers up to 2 years of age and reduced fat milk for children 2 years and older when appropriate) or toddler milk each day. 
You can offer water at all other times.  Keep in mind, if fluid intake is above what's recommended – your toddler could fill up on the fluid which could reduce their appetite for meals.
Snacks options
Fresh fruit – stick with seasonal fruits to keep costs down, and offer small pieces that are easy to grasp and hold
Vegetables – cut up cucumber, halved cherry tomatoes, steamed carrots, sliced capsicum, small pieces of cooked kumara, and pumpkin, potato or taro
Plain crackers – choose low-salt varieties such as corn thins, rice cakes, cream crackers
Sliced cheese
Sandwiches lightly spread with hummus or cream cheese
Yoghurt
A glass of whole milk.  Give whole milk to children up to 2 years of age and reduced fat milk for children 2 years and over when appropriate
What can affect your toddler's appetite?
As long as your little one is happy and gaining weight at a steady rate, there shouldn't be much to worry about.  However, if you're still concerned, it's worth speaking to your health professional.  Here are some normal factors that may affect your toddler's appetite:
Growth spurts can put an increase demand on their appetite, which can dramatically drop off once the growth spurt is over
When your toddler is unwell, with temperature or teething, it's quite likely they'll lose their appetite. But rest assured, it will come back bigger than ever once they're well again
Playtime is often a big distraction from eating properly.  When they're off exploring or playing with siblings, it can be hard to convince them to stop what they're doing and eat
Serving size –  it can be easy to put too much on a plate for a toddler, but it's important to keep the meal size small and add more if required. This will help them learn to only eat what they really need
References
Ministry of Health - Eating for healthy babies and toddlers - Accessed 20th January 2016.