Healthy eating while you're breast feeding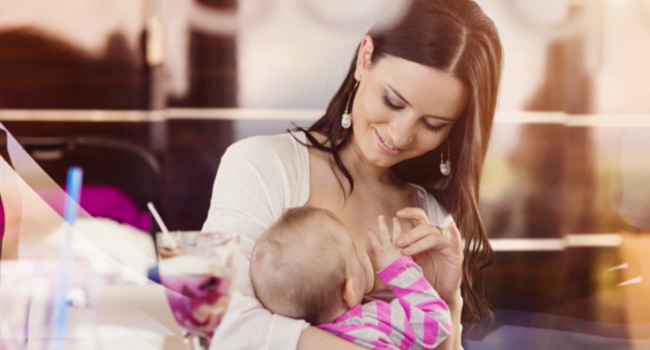 Go for a balanced eating plan based on the main food groups.
During the first 6 months of life, breast milk is the perfect food for your baby. An unequalled complete source of nutrition, it helps support your baby's optimal growth, development and health.
What's less likely to be talked about are the benefits to you as a mum. Not only is breastfeeding a great way to bond with your baby, but if you look after yourself well it can also help support your overall health and wellbeing.
Pregnancy and breastfeeding place high demands on your body.  That's why your eating plan is so important at this time to make sure you're feeling as strong, healthy and energetic as possible.  Your own nutrient stores may become depleted if you consume too little of the essential nutrients through your eating plan, therefore it's important that your eating plan is high in a range of key nutrients - especially if you're planning another pregnancy in the near future.
Different foods provide different nutrients. So it's best to keep your eating plan balanced, and choose a variety of healthy foods from these four core food groups:
Vegetables and fruit
Whether they're fresh, frozen or canned, vegetables and fruit are packed with essential vitamins, minerals and fibre. Aim for at least four serves of vegetables and two serves of fruit every day, and to keep things interesting choose different colours and varieties. If you choose canned fruit or vegetables, look for options with little or no added salt or sugar. And when you're cooking any vegetables, try to limit the use of salt and fat – steaming is a great option. Due to their high sugar content, juice and dried fruits should also be limited to one serve a day.
Milk and milk products
These are a great source of high quality protein and provide essential vitamins and minerals, including calcium, phosphorus, zinc and the vitamins, A, B2 and B12. Aim to have at least three servings each day of milk or milk products, preferably reduced fat products.
Milk and milk products provide New Zealanders with most of their calcium, so if you don't eat these foods or only very little of them, speak to your doctor or a dietitian about other calcium sources. If you drink soy-based drinks or other milk alternatives, choose products that are calcium-fortified, and if you're vegan – make sure the drink you choose has vitamin B12 added to it.
Breads and cereals
These provide energy in the form of carbohydrates, as well as fibre and nutrients such as B vitamins and minerals. Wholegrain varieties are best because of the extra nutrients and fibre they provide to support your digestive health.
Lean meats, chicken, seafood, eggs, cooked dried beans, peas and lentils, and nuts and seeds
Foods from this food group give you protein, iron, zinc and other essential nutrients. Include lean cuts of meat and chicken, and regularly have fish and seafood. Oily fish is a great source of docosahexaenoic acid (DHA), a fatty acid which is important in breast milk and is required to support your baby's brain development. To avoid the over consumption of mercury, just make sure you're careful with the source of any fish and other seafoods.
While it's an essential nutrient that's important for maintaining normal energy levels, women often have low stores of iron. Meat, chicken and seafood are the best sources for iron as it's absorbed easily by the body. Although iron from plant foods is less easily absorbed, including foods that are rich in vitamin C can increase iron absorption. Since it's difficult to get enough iron when excluding meat, this is especially important if you're vegetarian or vegan.
Seafood and eggs are also a useful source of iodine, so try to have at least two servings from this food group each day.
Nutrients that require special attention during breastfeeding
Iodine is an essential nutrient for normal growth and development, including your baby's brain development. The need for iodine increases during breastfeeding, and even when you eat a well-balanced eating plan it's difficult to get all the iodine you and your baby need. Therefore, as well as choosing foods that are important sources of iodine such as seafood and eggs, breastfeeding women are also advised to take a daily iodine supplement (150 µg/day). 
While it's definitely best to limit our overall intakes of salt, if you are adding salt to food choosing iodised salt rather than non-iodised salt can also help support your daily iodine intake.
Vitamin D is needed for strong bones and joints. Dietary sources of vitamin D are limited and the main source of vitamin D in New Zealand is sunlight. While sun protection is important for skin cancer prevention, some sun exposure is recommended so that your body can make vitamin D. Between September and April, a daily walk or some other form of outdoor physical activity in the early morning or late afternoon is recommended, while between May and August it is best to spend some time outdoors in the hours around noon.
Extra tips to stay healthy during breastfeeding
As well as choosing a variety of core foods, here are several more tips that can help keep you and your baby healthy during breastfeeding.
Drink plenty of fluids every day. Water or sometimes milk are the best choices.
Choose and prepare foods low in salt, added sugars and fat. Choose iodised salt when you're using it.
Aim for a healthy weight, but it may take time so be patient. Breastfeeding can help you lose some of the weight during pregnancy – a slow weight loss over the time of breastfeeding is best and dieting is not recommended.
Be active. Aim for at least 30 minutes of moderate physical activity every day, such as a brisk walk.
Take time out for yourself. Going for a walk provides exercise, fresh air and a time to relax.
Avoid smoking and alcohol, as these can affect your breast milk and have a negative effect on your baby
If you think something you are eating is affecting your baby then discuss this with your doctor or healthcare provider. Avoiding some foods may be eliminating important sources of essential nutrients.
For more advice on how to be healthy during breastfeeding, visit the Ministry of Health's website:
References
Ministry of Health & Health Promotion Agency (2013) Eating for healthy breastfeeding women. Available at: (accessed 21 December 2015).    
Ministry of Health (2006) Food and Nutrition Guidelines for Healthy Pregnant and Breastfeeding Women: A background paper. Wellington: Ministry of Health.
Allen LH. Multiple micronutrients in pregnancy and lactation: an overview. Am J Clin Nutr. 2005;81(suppl):1206S-12S.