Should Maternal Milk Be On Your Watch List? We Debunk Some Popular Pregnancy Myths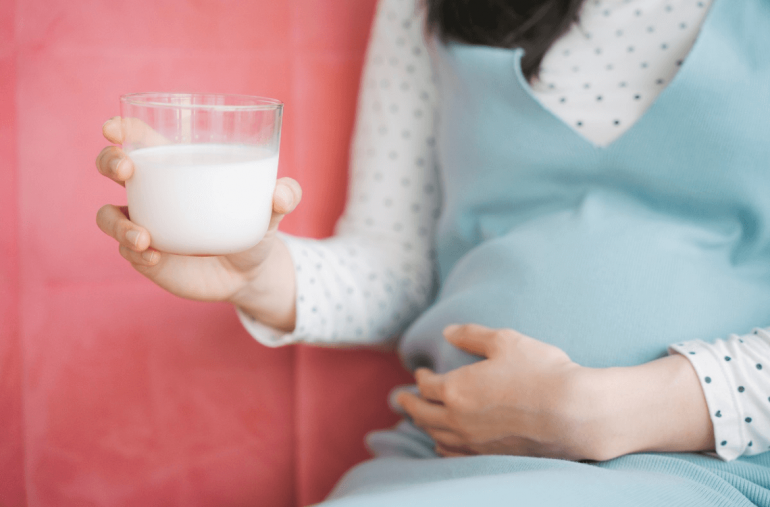 The first few moments after she found out she was pregnant was surreal. After trying for a little more than two years, Geeny was so ready to be a mother, but first, she had to carry her growing bub to full term.
However, that also means being confused by what everyone is telling her.
'Don't do this' and 'you must do that', became a theme in almost every conversation.
She almost wished she could keep her pregnancy a secret.
One of the things that became an issue was when she was pondering on taking maternal formula milk. She was a little fearful about her diet as she had little food options when she was working on urgent assignments that happen quite often at her office. She considered maternal formula milk as it would be easier for her to take it as part of her balanced diet, along with loads of calcium and Vitamin D.
When she spoke to her gynaecologist, she was given the green light!
When she mentioned it to her mother, oh no, her mother said no because it will make her fat. She asked a few of her friends, some say go for it, some say it is a scam. How can one make an informed decision when the opinions are almost 50-50?
It is a good thing she chatted with one of us at Motherhood. That is why we are going to debunk several myths about maternal formula milk!
Image by StockSnap from Pixabay

MYTH 1: Maternal formula milk will cause mummies to gain extra weight. OMG, I don't want to be obese!!!
FACT: Let's go back to basics. The cause of most weight gain is due to excessive energy intake and imbalance between energy input and output. In other words, it is referring to overeat/imbalance diet with low physical activity. Studies also showed that excessive added sugars intake is linked to weight gain and limiting consumption of sugar-sweetened beverages has a particular important role in weight control.
Along your pregnancy journey, you are recommended to gain a certain amount of weight based on your pre-pregnancy BMI status. If you follow the daily recommended intake by practicing well-balanced diet as per Malaysian Food Pyramid , you can consume maternal formula milk as part of your balanced diet without fear of putting on a few kilograms.
Try Anmum™ Materna, the #1 pre-natal milk in Malaysia. Not only it is low fat and contains no added sugar for its plain variant, it is specially formulated to provide the key nutrients to support your pregnancy.


MYTH 2: I'll have an extra-large baby if I take maternal milk.
FACT: Drinking maternal milk support your nutritional needs to further support your fetus to grow. Maternal milk provides the necessary nutrients like folic acid, calcium, Vitamin D, and proteins needed to make the basic structure of our body, the cells!
If you don't have enough of these nutrients, the fetus will have to take what is available in the mum's body – and no, that is not good for mummies. Mummies need to be fed well to care for both you and your growing fetus.



Image by lucas mendes from Pexels

MYTH 3: Mummies only need maternal formula milk when they are in the third trimester.
FACT: You can start introducing maternal formula milk in your diet once you start to plan for pregnancy or as soon as you found out you are pregnant. In the first trimester, your body has an increasing need for folic acid, and certain brand of maternal milk will provide you with a sufficient amount.
Folic acid is a type of vitamin B. It is important to get enough of this vitamin during pregnancy. It is essential for growth and division of cells in both mother and fetus. Adequate folic acid intake is important to support the rapid division of cells in fetus for proper development and reduce the risk for neural tube defects (which happens in the first few weeks after conception). Folic acid also plays an important role in red blood cells formation throughout your pregnancy.
You will also require a different level of nutrients at different trimesters. Try taking Anmum™ Materna milk as it provides the nutrients you need during pregnancy as it is specially formulated to support both you and your fetus in your pregnancy journey.
MYTH 4: I don't have to buy expensive milk because fresh milk will provide me with enough nutrition during my pregnancy. #savecost
FACT: When you are pregnant, you need 1000mg of calcium daily. Two glasses of fresh milk daily will only provide you with 55.2% of what you need, just a little more than half!
If you take two glasses of Anmum™ Materna a day, you'll get 100% of your recommended calcium and folic acid daily. It also contains additional nutrients that support the growth of the fetus like DHA and Gangliosides (GA) (which are found abundantly in the brain) as well as nutrients to support your increased nutritional needs and well-being such as iron, prebiotic, and probiotic.
With all that good stuff, it supports your increased nutritional needs in a convenient way.
Image by Andrea Piacquadio from Pexels


MYTH 5: Maternal milk won't help with my pregnancy fatigue.
FACT: Before you make any assumptions, the questions that should be answered is, what causes that fatigue? Commonly it is due to lack of iron.
Studies showed that approximately one third of pregnant women in Klang Valley do not consume enough iron. Maternal formula milk has the iron you need to power through your pregnancy journey.
FYI, two glasses of Anmum™ Materna equips you with the same amount of iron available in 19 cups of broccoli!
MYTH 6: Claims that maternal milk may increase the baby's possible allergic reactions.
FACT: Let's settle this once and for all. Study has shown that higher maternal intake of added sugars during pregnancy was associated with an increased risk of allergic asthma in the children. In addition, with excessive added sugars intake, you may also have higher risk for excessive weight gain. The latest study showed that excessive weight gain during pregnancy may be a risk factor for childhood allergic diseases. .
Once again, remember to watch out your daily sugar intake. Anmum™ Materna Plain is the only brand with absolutely no added sugars. It also contains both prebiotic and probiotic which are important to support a good gut environment.
Image by 955169 from Pixabay

MYTH 7: Maternal milk has high sugar content.
FACT: This myth does not apply to Anmum™ Materna because the plain variant is the ONLY maternal formula milk with no added sugars while its Chocolate variant is less sweet.
That's it for our myth-busting episode today. We hope you can drown out those naysayers and gain some knowledge on the benefits of including maternal formula milk into your diet when you are expecting.
For the good nutrition without the additional unneeded calories, choose Anmum™ Materna. It contains key pregnancy nutrients that help support the nutritional needs of mommy and fetus.
Anmum™ Materna also has no added sugars** and is low in fat. Just two glasses of Anmum™ Materna will make a difference. Get your free sample today!
**applicable for Plain variant only
To request for a free sample, please visit https://www.anmum.com/my/en/sample-request
Source from Motherhood
https://story.motherhood.com.my/blog/maternal-milk-on-watch-list-debunk-popular-pregnancy-myths/